Simply Manufacturing Product Screens
Simply Manufacturing builds the best screens with our in-house capabilities. We use high quality stainless steel that is constructed to exacting standards. Our design team can build to your exact specifications, or offer design improvements. Key specifications that we evaluate are: dimensions, capacity, airflow, corrosive environments, durability, compatibility with existing systems, separation and roll prevention. See below for specific examples.
Mesh Screens - Standard and Heavy-Duty

The versatile industry standard available in 42"x42". Other dimensions and wire diameters available to meet your requirements.
Wire Screens - Standard and Heavy-Duty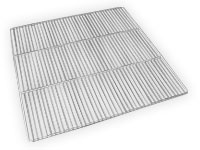 The economical industry standard available in various dimensions and wire diameters to meet your requirements.
Custom Designs

An infinite array available. As always, our in house design team will work with you to meet your exact needs.